When the time comes for the kiddos to return to the classroom, these back-to-school organization ideas can help keep your home tidy and running smoothly. The chaos of coats and backpacks flung by the door, piles of paperwork, and lunch boxes that go MIA moments before the school bus pulls up is enough to make you question your sanity. Fortunately, putting a few systems in place can be all it takes to keep your rooms (and your family) in order.
You don't need to go back to school yourself to become a professional organizer (unless you want to, of course). We got some home design and decluttering experts to share their secrets for streamlining school supplies to minimize the toll they can take on you and your abode.
On the hook

Photo by Benjamin Moore
Install hooks right by the door the kids pass through on their way to the school bus or carpool stop. Whether that's the front or back door, they can easily grab their backpacks and coats on the fly when time is of the essence. You can easily create your own backpack and coat station using inexpensive hooks and nails from the home improvement or craft store.
Smart and stylish homework station

Photo by G Family, Inc.
Setting up a well-organized spot where students can get down to business is half the battle when it comes to homework. As organizer Laura Gaskill points out, a spacious desk is ideal for spreading out books. A side locker keeps everything neatly contained in one spot. Just like a home office, a designated area for homework will help the kids hunker down and finish their work on time.
Lazy Susan for school supplies
This homework station turntable, designed by Trish Rosenquist of the blog Mom on Time Out, keeps everything young learners need right at their fingertips. That means no more excuses to wander away from the books, and fewer calls to Mom and Dad for help locating those runaway scissors. Rosenquist offers a full tutorial on how to assemble this colorful and easy-to-carry craft caddy.
Lunchbox lineup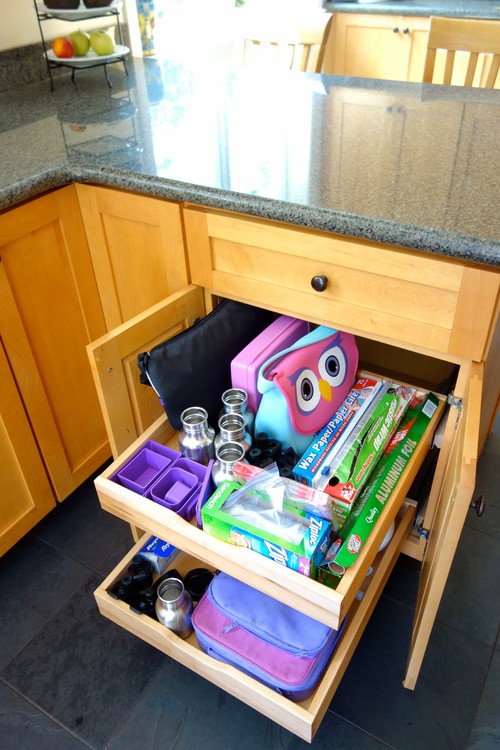 Photo by Tiffany Carboni
Keep lunch boxes and thermoses in the kitchen, so it's easy to pack each morning. Choose a cabinet near a trash can, so you can easily toss leftover bits of bologna and cheese sandwich so they don't spend the weekend rotting inside your kid's lunchbox. (Just thinking about it turns your stomach, doesn't it?) Home design expert Tiffany Carboni devised this "bona fide lunch management system" in just 20 minutes, but she knows it'll save her tons of time in the coming months.
It's a date

Photo by NEAT Method Denver
With a range of sports and extracurricular activities—not to mention back-to-school night—the family calendar tends to fill up fast. But with a wall-length at-a-glance calendar, you'll (hopefully) never miss an important meeting or carpool again. Chalk works like a dream when those games get rescheduled due to bad weather. Gaskill recommends writing down all important dates at the beginning of the year.
"You'll thank yourself later," she says.
Tame the paper trail

Photo by A. Peltier Interiors
You could probably wallpaper your home with all the forms and documents the kids bring home, but why not organize them in a set of affordable magazine racks (Ikea, $14.99)? Pawing through miscellaneous school papers is a pain, but staying on top of those piles is a breeze if you have them sorted by type or who they belong to.
Defuse the daily outfit battle

Photo by J & J Design Group, LLC.
No one has time for an early-morning sock scavenger hunt. Eliminate the "I've got nothing to wear!" excuse by prepping a week's worth of ensembles in advance and placing them in clearly labeled drawers. Notice that the shoes are neatly lined up as well, so you won't have to go digging through a mountain of footwear for a sneaker or sandal when you should be walking out the door.
If you don't have this picture-perfect closet system in place, you can replicate the idea by placing day-of-the-week notecards on top of outfits in drawers. Or, place them in plastic bags on hangers in the closet, label them Monday through Friday, and arrange them in order. The chaos ends now.